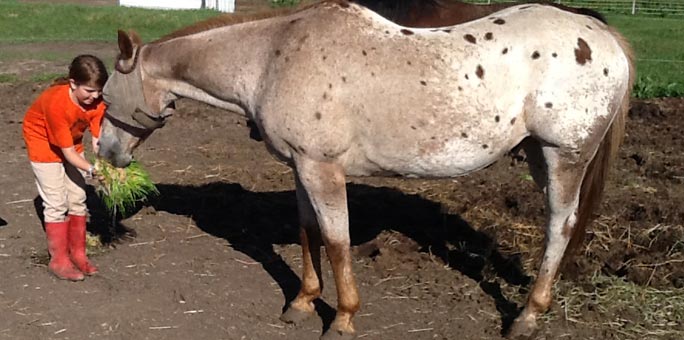 Challenge - Difficulty finding and storing hay
Solution - Three Full-Size Expanded FodderPro 2.0 Feed Systems
Application - Feeding horses at boarding facility
Location - Monroe, WI
Country View Equestrian Center is currently home to 55 horses and sits on a 14-acre property in Wisconsin. The facility is comprised of a 43-stall barn, an outdoor arena and an indoor arena. Owners Brandi Widmer and Crimson Pulver offer boarding, training and lessons. Widmer explains, "Because we have a small acreage, we have limited storage for feed. Finding and storing hay has been a steady problem since we opened ten years ago."
Since the availability of hay was such a large problem for Country View Equestrian Center, Widmer knew she and Pulver needed to find a better way to feed their horses. She shares, "We were introduced to the concept of hydroponic growing from a client who moved to an area where it is hard to obtain quality forage. After doing some research of our own, we decided to invest in a hydroponic forage system." The decision to go with FarmTek's FodderPro 2.0 Feed System came next. "We chose FarmTek after looking into a lot of other systems. The FarmTek option fit our needs the best in many regards. It was the best value for our money and the most efficient use of space."
The horses are doing well on the fodder diet and adjusted very quickly to the new feeding regimen. "This winter, hay was hard to come by and even feeding free choice seemed to leave the horses slender and rough looking. Just feeding fodder for three months has put weight on all the horses, as well as shined up their coats and given them more energy. They are healthier than ever."
The most noticeable benefit of the fodder systems has been the reduced feed bill. Widmer says, "The systems are meeting our expectations, and then some. We have been seeing the benefits in our horses' coats and weights, as well as in our feed bill. We have cut our hay down to the bare minimum for each horse. We had been going through three 900 lb. bales a day, but now only use one a day. We are saving about $300 per day on hay now. We also used to spend about $1,400 every six weeks on performance feed which we have cut out. We estimate that, including electricity, seed and water expenses, we are spending about $140 a ton to grow our own feed. This savings in feed costs is going to be the difference between staying in business and going out of business."
Widmer concludes, "I love the simplicity of our systems. Now that they are up and running, there is little daily adjusting that needs to be done. The units are well constructed and will last. We've spent some time figuring out short cuts and becoming more efficient. Every day gets easier with FodderPro 2.0 Feed Systems."