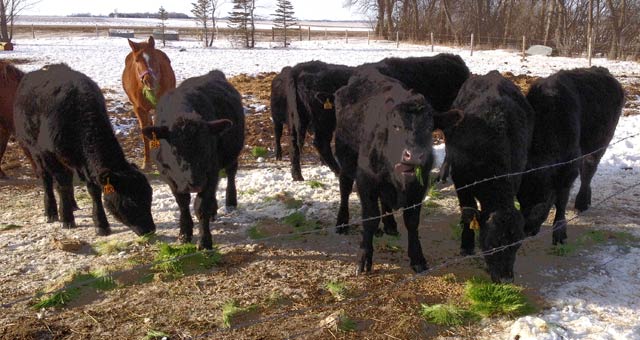 Challenge - High price of feed and lack of fresh pasture
Solution - Full-Size Standard FodderPro 2.0 Feed System
Application - Feeding cattle, pigs and chickens
Location - Wyndmere, ND
Edd Goerger, the owner and operator of Damasa Organics Farm, believes we should really consider where our food is coming from before we eat it. This is the reason he raises his cattle, chickens and pigs on pasture. He then markets his chicken, eggs, pork and beef to customers within a fifty-mile radius. Raising livestock on pasture can be hit or miss, especially when droughts like the one we have been experiencing occur.
Previously, Goerger's cattle were eating straight grass hay during the winter and pasture during the summer. The pigs and poultry got a regular organic grain ration along with rotational pasture moves. With the prices of feed on the rise and the drought affecting pasture, Goerger knew he needed a more sustainable feed option. He knew FarmTek products had proved to be long lasting in the past, so he turned to the company for a FodderPro 2.0 Feed System. Goerger says, "I chose the FarmTek system because of the simplicity and ease of operation compared to others on the market. I also liked the price."
The system is working out well for Goerger, even with the cold winters he experiences in North Dakota. He explains, "After learning how to manage the system in a heated winter environment, it has been almost trouble free." Goerger is impressed with the feed cost savings he is experiencing. "The fodder is produced at half the cost of hay, even with using six-dollar barley." He continues, "I like that I can provide fresh, green grass to my animals year round, allowing them to maintain higher Omega 3 levels."
Goerger shares, "While the system is easy to use, it is more effort than just pitching hay over the fence. But, with the decrease in feed costs and increase in feed quality, the effort is completely worth it. In addition, you not only provide a way to supply fresh green feed in the winter, you also drought-proof your operation in case your pastures go dry."