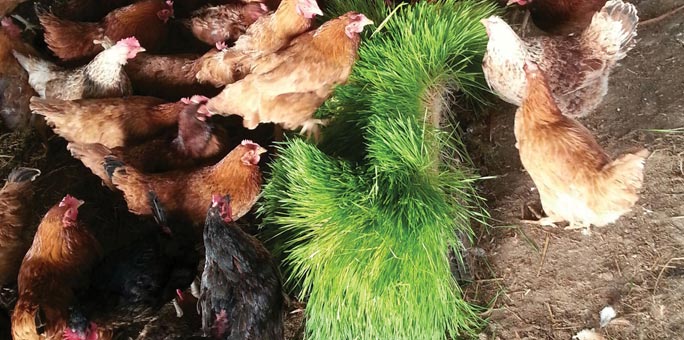 Challenge - High Feed Costs
Solution - Full-Size Standard FodderPro 2.0 Feed System
Application - Hydroponic fodder for chickens and ducks
Location - Rancho Belago, CA
When Reese McClure and his wife Christine of GoneStraw Farms in California increased their flock of chickens and ducks to 2,500 birds in 2010, they encountered an out-of-control feed bill as a result. Reese's self-instated role of catering to "his girls" every need means that he is constantly tweaking their diet in order to find a balance between health and maximum egg production. However, this was growing costly for Reese and he needed to find a way to feed his birds that would still offer the highest level of nutrition possible while remaining cost conscious.
Before purchasing the FodderPro 2.0 Feed System, Reese was feeding his birds commercial lay mash. After researching the FodderPro system, Reese states, "The nutritional benefits and ease of the system made the purchase a no-brainer.". Reese explains that he looked at all the fodder systems on the market, as well as the companies who sold them. "We have received the FarmTek catalog for years now. Price and reputation made the choice easy," he says. "I also enjoyed the financing options. FarmTek understands the farming lifestyle and how important cash flow is to the daily operation of a farm."
Since purchasing his fodder system, Reese has been very satisfied with the results he continues to see. "The system is working perfectly," he explains. "It took me about a week and a half to get it right. Now that the temperature, humidity, air flow, water and seed are working well, it's like a well-oiled machine."
Reese states that the easy removal of the fodder once it is grown is something he likes most about his FodderPro system. He also likes the fact that clean-up between harvest and reseeding is easy and effortless. Finally, he explains, "I really like how versatile the system is, you can adapt it to your working environment. It's very easy to build into any existing building space."
The proof that fodder was the right choice for Reese's birds can be seen in the birds themselves. He has seen improvements in energy levels and overall health. Reese feeds the fodder to his birds in a controlled environment because he wants to be sure they consume as much of it as possible. "I still feed lay mash," he shares, "but I have cut it by over half. My goal is to find that balance of lay mash and fodder." Reese's ultimate goal is to feed his girls 80% fodder and to supplement them with a 20% blend of seed mixes.
In addition to providing nutritional feed to his birds, Reese has discovered that his egg customers are also purchasing the wheat grass fodder for juicing purposes. His customers recognize the high quality that comes from the eggs and buying the wheat grass is just an additional benefit that Reese has seen from his fodder system.
The only thing Reese would do differently in regards to his fodder system. Go bigger, he explains. "If you're in the business of livestock, you can't afford not to have a fodder system in your barn," Reese states. "It's the only way you can stabilize your feed bill. It's a great way to be more proactive in your animals' diet and make your farm more profitable." Reese's commitment to his animals goes beyond the desire to remain profitable. According to Reese, "There is something about growing your animals' food; being that involved in their diet gives you a deep connection to your animals and pride in the end product. It's very rewarding to see the health of your animals improve and your customers to notice it in the taste of the product you're producing."