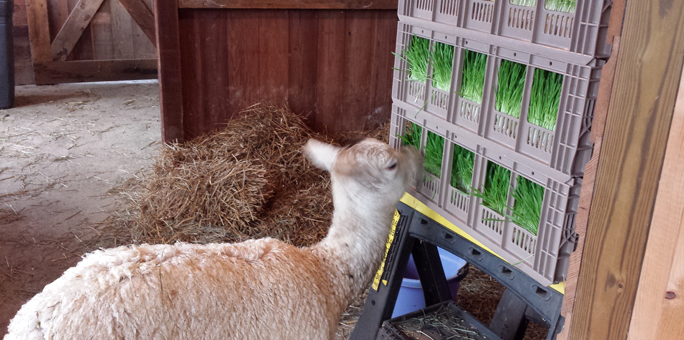 Challenge - Alternative way to produce animal feed crops
Solution - Eight Full-Size Compact FodderPro 2.0 Feed System
Application - Growing fodder for local farms
Location - Lansdale, PA
Green Warrior Farms is looking to establish itself as a corporation that provides opportunity. Their objective is, "to provide injured veterans with an opportunity to own their own fodder production business, which will help make America more self sufficient and less dependent on foreign food." Production Manager Matt Van Vlack explains, "the original purpose of establishing our fodder operation was to produce health benefits for local livestock." However, Green Warrior Farms did not stop there. Van Vlack elaborates, "essentially what we are offering is an opportunity for our veterans to grow feed on contract for local farmers, which will help to reduce the overall carbon footprint of feed distribution."
Operating out of a pole-barn warehouse building, Van Vlack and Green Warrior Farms have been seeing success. "Before our hydroponic farm, we had to wait for two years for production efforts to start due to low funding, so we began to look for ways to quickly produce a crop that would be profitable." It was during this time that Van Vlack began to look into hydroponic livestock feed. "We chose to go with fodder, because of its short growing time and large potential market."
The idea of growing and selling fodder to local farmers came about after years of watching farmers' land be sold to developers. Also, rising feed costs and tough drought conditions have been forcing farmers to pay increasing prices for lower-quality feeds. This combination of factors has been forcing farms to close in order to avoid debt problems. Van Vlack says that, "after years of watching many farmers close up their farms and sell off to developers, we decided to look for a way to produce crops indoors." Green Warrior Farms soon found that after purchasing their FodderPro 2.0 Feed Systems, they were "producing forage faster and more efficiently, while not being weather dependent."
Currently, Green Warrior Farms is growing organic barley, but they are planning to make mixes and grow other crops in the future. The ease of use and reliable growing pattern of the FodderPro 2.0 Feed Systems have pleased Van Vlack and Green Warrior Farms thus far. Van Vlack states, "going with the FodderPro 2.0 Feed Systems was an excellent decision for us, we are glad we chose these systems over all the others that we researched."