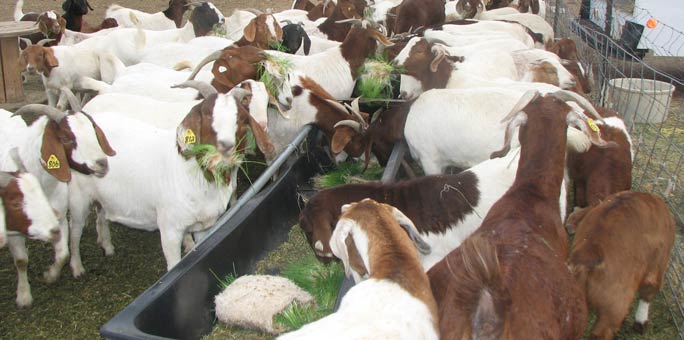 Challenge - Lack of quality pastureland for Boer goats
Solution - Full-Size Standard FodderPro 2.0 Feed System
Application - Fresh forage for Boer goats
Location - Kersey, CO
At Hanscome Dairy in Kersey, CO, there are quite a few different types of animals, with many different purposes in life. Owner Julie Hanscome has a dairy herd, Boer goat herd, chickens and rabbits. Her goats were eating weeds, dry land grass and poor-to-average quality alfalfa. Hanscome explains, "I decided to purchase a FodderPro 2.0 Feed System last summer when our drought conditions were making it difficult to find adequate inventories of goat hay to sustain the herd throughout the winter."
Hanscome was already a FarmTek customer and learned about the fodder systems through marketing materials. She says, "I chose FarmTek based on previous, favorable experience I had with the company." She is pleased with her system and says it is working out well. "The system seems to be well built and should last for many years. It is simple in design and cost-effective. The materials used for construction will make it easy to find replacement parts if needed."
Hanscome loves the system, and so do her goats. "They love the fodder. If they are fed dry hay first, and then fodder, they leave the hay and RUN to the fodder! It's kind of like standing between Halloween candy and trick-or-treaters. Better to just step back and get out of the way!"
Adding a fodder system to her business has helped Hanscome stay on budget while keeping her animals healthy and happy. She says, "The primary reason I chose the fodder system was so that I could control the availability of feed for my goat herd. With our ongoing drought here in Colorado, it is difficult to find hay at all, and finding it at a reasonable price is becoming impossible. The FodderPro 2.0 Feed System takes away that uncertainty. Once I've secured my barley seed inventory, I know what my fodder costs are going to be." She adds, "I have strongly recommended this system to anyone looking at fodder systems, and will continue to do so."