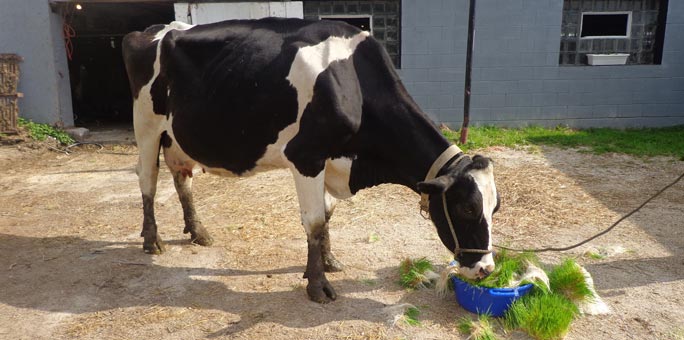 Challenge - Controlling feed cost and quality
Solution - Eight Full-Size Compact FodderPro 2.0 Feed Systems
Application - Hydroponic fodder for Holstein, Jersey and Swiss dairy cows
Location - Cleveland, WI
Lensmire Family Farm, owned and operated by Tom and Jane Lensmire, is home to about 80 Holstein, Jersey and Swiss dairy cows. Located in Cleveland, WI, the farm has been in the family for 23 years and spans 80 acres of land. The Lensmires began rotational grazing about 13 years ago and still use this practice today, in addition to purchased feed. However, an interest in hydroponics led them to FarmTek's FodderPro 2.0 Feed Systems after reading about hydroponic fodder in the company's catalog.
"Before we purchased the system, we were feeding baled hay, corn silage and a grain mix consisting of corn, cottonseed and dried distiller's grain," Jane explains. After some research and discussion with local farmers and family, the Lensmires decided to purchase a system. "We decided that growing hydroponic fodder was a good fit for our operation and decided we could do it in an old building we were using for storage," Tom states. This was a cost-effective option that allowed the Lensmires to use a standing structure instead of building a new one, saving money and time.
The Lensmires did their research on fodder and Jane explains, "The FarmTek system seemed to be the one that would fit our needs and keep us within our budget." Tom, Jane's husband, contacted FarmTek and worked with the company's fodder specialist, who sent information and helped the Lensmires make their decision. "FarmTek had the most information available about hydroponic fodder," says Tom.
Since introducing the system to their farm and learning what works best for their needs, Jane says the system is working out well. But the Lensmires aren't the only ones reaping the benefits of feeding fodder. "The animals eat every last bit of it!" Jane exclaims. "It's highly digestible and the animals really like it." Their cows' production has increased and they are enjoying the feed.
Since introducing their cows to fodder, the Lensmires have seen production increase by 4 to 5 pounds of milk per cow per day. "Feeding fodder has enabled us to cut back about 10 lbs. of grain mix per cow per day, which has been a good cost savings for us," Tom says. "We have also cut down on the paddock space for grazing since we have introduced fodder," he continues.
When sharing any advice for those who may be considering purchasing a fodder system, Tom and Jane offer this: "Do your research to make sure you choose what is right for your operation. Talk to people and be willing to put in the time and effort to get through the learning curve. Once you've accomplished that, things run pretty smoothly!" The Lensmires were pleased they chose FarmTek to work with through the process of researching, purchasing and assembling their system. They attended FarmTek's three-day seminar on hydroponic growing, which Jane explains was informative and helpful. "We are happy with our investment," she concludes, "and are looking forward to seeing what else we can accomplish with it!"