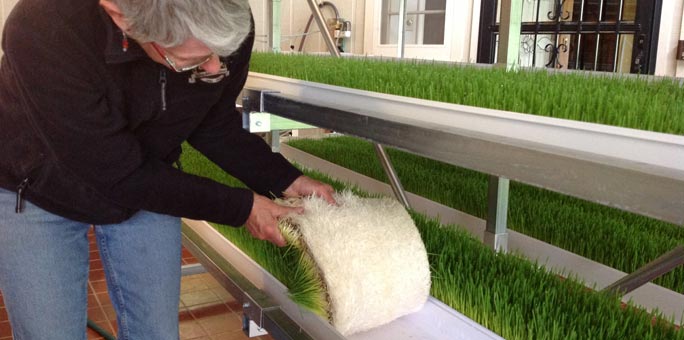 Challenge - Out-of-control feed costs
Solution - Standard Mini FodderPro 2.0 Feed System
Application - Feeding dairy cows and draft horses
Location - Chadron, NE
Mary Hurley lives on the farm she grew up on with her husband, Wayne. She is the third generation to live on the farm and moved back to help her dad and brother. Mary and Wayne recently bought their first milk cow and soon realized that feed costs were rising out of control.
Gretta, the milk cow, was on a diet of organic rye, organic oats, organic barley, organic molasses, Redmond sea salt and diatomaceous earth. She and her calf, Kadie, also got alfalfa and hay. Mary explains, "Because of the severity of last year's drought, there was no pasture grass or alfalfa crop. We had to buy alfalfa and hay which was extremely expensive. We also knew that we could not afford to continue feeding the organic mixture Gretta was on."
Mary began researching alternative feed solutions. She says, "I accidentally stumbled upon fodder systems while looking for sources of organic rolled grains and mixtures. I was very intrigued by the whole concept, especially for those of us without our own adequate pasture or in severe drought conditions. We began looking at different units and exploring the idea of installing a system on our porch. The FodderPro 2.0 Feed System from FarmTek seemed to be more user friendly and manageable, as well as very simple and clean in design. We checked it out and made the call!"
The system is working out great for the Hurleys. Mary shares, "We were so excited when we soaked our first bucket of grain and planted the following morning. It was amazing to watch the seeds transform into fodder right before our eyes each day. The cows come running for the fodder and seem to be eating it up. I assume that if Gretta's milk were tested, it would rate very high in vitamins and minerals. It just seems that fresh barley grass has to be the best feed for her. She is giving a lot of rich cream."
Mary also adds, "Because we are providing real milk from a real cow eating real food, we invite people to drop in. It is fun to give tours! The FodderPro 2.0 Feed System is impressive, very simple in design and it works! People are fascinated."